Isn't it hard to believe that we are already into August!
In a month's time we will be back in school and getting ready to meet our new third graders.
With this in mind, I have finally put together the activities and materials that I use alongside the reading of one of my favorite back to school books:
Stuart Goes to School by Sara Pennypacker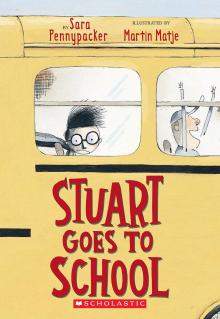 I have blogged about this book before. It is about a boy named Stuart who is very nervous about his first day of third grade. He imagines all kinds of horrible situations that will happen to him.
He is comforted by the magic cape he made which provides him with all kinds of daily adventures.
It all works out fine in the end for Stuart and he ends up using his talents for good and makes new friends.
I like this book because it is downright silly and there is nothing better than a teacher and her students enjoying a book and laughing together. It is a perfect read for this age group since it is a good introduction to a chapter book yet still has pictures on many pages.
I love how it lends itself to lots of connections with different content areas.
I use it as a springboard for math, science, writing and vocabulary activities that quickly fill the first week of school.
Our CAFE board is pitifully empty on the first day of school.
I use Stuart Goes to School to introduce Good Reader Strategies and then we post it to our board. Our very first one is "Making a Prediction".
I use the Story Souvenir Suitcase to get students thinking about what might happen.
Inside I put the book, a cape, ties, a muffin, barrettes and the boy's pass.
Students attempt to make predictions based on the book's title, cover illustration and items in our suitcase. We say stories can take you to another place and in this case, it takes us to school with Stuart on his first day. Kids can make lots of text to self connections with this one!
I give my students their first book response booklet to record their good ideas.
They stop and record a bit before, during and after reading.
The book, Stuart Goes to School is written in just three chapters entitled: Day One, Day Two and Day Three....so that's how I read it, one chapter each of the first three days of school.
As we read, we always listen out for exciting "Big Kid" words and add them to our Vocabulary Vault.
I also pick 5 words related to the story to use as my vocabulary words for the week.
I love it when I can weave what we are reading into other curriculum areas like math. We start our year with a unit on graphing and this "First Day Feelings" pictograph is a great follow up to chapter one. I sneak in some vocabulary enrichment as we add some pizzazzy third grade words to replace common words like "happy" and "sad".
Stuart counted raisins during lunch time, so we did too. Here each student was given a mini sized raisin box and counted how many were inside. We create a class line plot to record our data.
This year I'm going to introduce my first STEM lesson through this book.
In Stuart Goes to School, Stuart's teacher gets stuck on the roof and he needs to figure out how to get her down. This leads right into a great STEM challenge:
My kids will work in teams and use a variety of materials to make a ladder that can get Mrs. Spindles down from that roof. A STEM lesson makes an excellent ice breaker and will reveal a lot about the personalities of my new students. I will learn a lot about them by observing how they work through a task like this one.
I've added these materials and others too to my Teacher Pay Teacher Store.
You can check it out by clicking the link below:
Do you have a favorite read aloud book to kick off a new year?
I'd love to hear.... email @ youngdor8@gmail.com